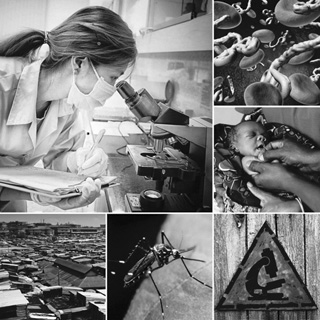 Medicines for Africa - Measures to improve the health situation
Project team:

Thematic area:

Topic initiative:

Committee on Economic Cooperation and Development

Analytical approach:

TA project

Startdate:

2012

Enddate:

2017
sprungmarken_marker_1954
Subject and objective of the project
New medicines are rarely developed with regard to numerous diseases that almost exclusively affect poor countries. Though new medicines are produced for diseases occurring all over the world, these medicines mostly are too expensive for poor countries, as product development is (re)financed by selling the products at monopoly prices. For several years now, there is an intensive debate regarding the question of which measures are able to sustainably promote research and product development and to what extent market mechanisms should be complemented or even replaced. This is quite understandable, since the right to health is an essential international human right limiting the protection of investments in pharmacological product development at the international level. Scrutinising individual positions and having a closer look at them mostly reveals a highly complex situation with local, national and global stakeholders involved and manifold cause/effect correlations.
The Office of Technology Assessment at the German Bundestag (TAB) has been commissioned to give an overview of various measures aiming at strengthening research and product development to fight poverty-related diseases. This included the task of clarifying both at international and national level which ideas are being discussed, which initiatives have been started and tested as well as which measures are already being extensively applied. The project also has taken into consideration the intended or even non-intended effects that have been realised or at least hoped for with the corresponding ideas and measures as well as associated expert opinions and evaluations. It was asked what is the contribution of Germany as a research site in the context of neglected diseases, what are particular strengths and how is it possible to strengthen and promote the commitment against neglected diseases. This comprehensive and – due to its practical examples – well-founded analysis of the current situation should be the basis for deriving options for action for the German Bundestag.
Results
Modern medicine requires comprehensive R&D activities to prove the safety and efficacy of new medicines before they can be approved and used for providing the population with medicines ensuring that their production meets high quality standards. The pharmaceutical industry is one of the most research-intensive sectors worldwide. Various measures are being discussed with regard to neglected diseases in order to tackle the R&D deficit and to uncouple R&D costs from product prices. These measures tackle different development phases of the pharmacological innovation process and have different effects depending on their intended objectives:
In recent years, many industrialised countries have enhanced their public research funding capacities and thus have mainly strengthened basic research in their public institutions. Some public, non-profit and private-sector R&D stakeholders are starting to open up their R&D instruments to develop products against poverty-related diseases together. They partly refer to the access to and the use of research infrastructures (substance libraries, laboratories), R&D data and intellectual property rights (patent pools) as Open Innovation. This opening was observed only for defined R&D stakeholders, if they participate in the development of medicines intended to fight certain diseases. In recent years, mainly substance search and preclinical product development have been promoted this way. Since the turn of the millennium, numerous non-profit product development partnerships (PDPs) with their own financing (donations, public funding) have emerged. Meanwhile, they have developed their own R&D agendas in mostly tightly limited disease-related areas (e. g. vaccine development) and can get involved with all R&D phases up to market authorisation, provided they have appropriate product candidates and the necessary financial means. Besides PDPs, the European Commission and several participating European countries have established the European and Developing Countries Clinical Trials Partnership (EDCTP). The EDCTP also is a non-profit organisation which is used by European countries and the European Commission to channel R&D funds in order to conduct clinical trials in sub-Saharan Africa. Due to their activities, both PDPs and the EDCTP strengthen technology transfer and capacity building in endemic countries that conduct trials. European and US drug regulatory authorities have established procedures in order to ensure a fast and cost-effective assessment regarding the safety and efficacy of new medicines against neglected diseases. The WHO helps to assess the quality of the new products. These elements are essential to provide a socially acceptable access (i. e. at affordable prices) to new products in developing countries via bilateral and multilateral programs. For several years now, there is a controversial debate with regard to tapping additional sources of funding for conducting clinical trials as well. Whether it is about comprehensive long-term product purchase guarantees, various approaches regarding research funds or levies on airline tickets or financial transactions – if single ideas succeed in reaching the phase of practical testing, only few countries are participating so far. Moreover, specific economic policy measures aiming at offering targeted incentives for private-sector commitment, such as e. g. tax credits or priority review vouchers, are tested in not more than a few countries.
The report presents the existing financing mechanisms of the medical innovation system and the relevant intellectual property rights and addresses the mechanisms of international trade agreements (TRIPS) as well as their flexibilities with regard to balancing the conflict of objectives between the protection of R&D investments on the one hand and the provision of medicines in case of national health problems on the other hand. It is pointed out that the practical relevance of the protective mechanisms decreases, if market mechanisms fail. In this case, some R&D stakeholders start managing their intellectual property rights together in patent pools.
Germany is one of the world's leading countries for medical research and product development. Several public and private research institutions are also active in the field of poverty-related neglected diseases (PRNDs). In recent years, these institutions have generated different innovative approaches for the prevention, diagnostics and treatment of these diseases and participate in national and international projects for product development. For the first time, the TAB report presents the activities of the German research landscape with regard to poverty-related diseases as well as cooperations and forms of financing involved. In recent years, despite these activities, the overall national commitment fell behind that of several other industrialised countries, notably the USA and Great Britain.
For some years now, German politics have signalled the willingness to show a stronger commitment. Since the outbreak of Ebola in East Africa in 2014 at the latest, there is an increasing awareness of PRNDs as a global health issue even at the highest governmental level – not only at the WHO, but also at the World Economic Forum or at G7 and G20 summits. Intensifying research and product development is considered to be one key element to fight PRNDs. The TAB report provides a substantial base of information for further political debates regarding different options aiming at strengthening product development for PRNDs and better adapting the medical innovation system to these diseases.
Further reading
KIT Press Release 159/2017, Medical Innovations for Africa. Technology Assessment: Open Innovation and Local Clinical Centers Can Strengthen Research and Product Development for Neglected Diseases – Analysis for the German Bundestag Provides a Wide Range of Options
Medicines for Africa. The KIT-operated Office of Technology Assessment at the German Bundestag (TAB) Outlines Options for Action, in: lookKIT 04/17, S. 72-76 (only partly in English)