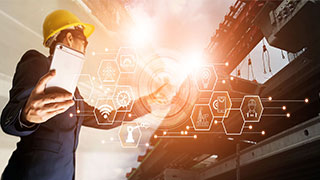 Innovative technologies, processes and products in the construction industry
sprungmarken_marker_1264
Background and central aspects of the topic
The great demand for affordable housing and the existing housing stock, which is often considered to be insufficient, represent a major national challenge. In order to tackle this challenge, an efficient construction industry is indispensable. The construction industry plans and realises commercial and public construction projects, from the continuous modernisation of infrastructure to individual large-scale projects. Different construction subareas from new construction and repair respectively reconstruction to modernisation are served by various general or partially highly specialized, small regional planning offices, crafts enterprises up to internationally operating large corporations. In Germany, residential construction accounted for 61 % of national construction investments in 2017, with small and medium-sized enterprises (SMEs) dominating this segment (three quarters of the companies involved have less than 50 employees). Commercial and public buildings accounted for 39 % of investments, with these segments being dominated rather by larger companies (approximately 60 % of them have 50 employees and more). At the international level, mainly large corporations participate in major infrastructure construction projects.
The construction industry as a whole has been experiencing a strong growth for several years – at the national level primarily due to the current high demand in residential construction. The growth for commercial and public buildings is more moderate but also significant, particularly because of the need to modernise the energy and transport infrastructure in Germany and Europe. This is partly due to the fact that maintenance backlogs in the public building stock have accumulated over many years which now can be eliminated due to the currently improved budget situation at the federal, Länder and municipal level. From 2005 to 2015, however, the market share of German companies in major international projects halved to 6 %. Although the technology leadership often attested to German companies in international competition is still considered to be a specific competitive advantage, the relevance of the price leadership attributed to foreign companies has increased significantly and reduces the former technology-related German competitive advantage.
Meanwhile, the considerable demand for construction services is in opposition to personnel bottlenecks in the construction industry. Currently, the shortage of labour already represents an obstacle to carrying out necessary construction work in a timely manner. Moreover, the productivity gains in the construction industry caused by product and process innovations have been decreasing for decades compared to the overall economy. Furthermore, the continuously growing number of normative provisions increase the requirements regarding planning and execution, the complexity of the process structures as well as the expense and cost components of construction projects.
Altogether, the construction industry faces a considerable need for technical and organisational innovation in order to be able to meet the challenges ahead. Several (digital-)technological innovations and further developments are being discussed, developed, partly also tested and applied. The spectrum ranges from new technical possibilities for surveying and documentation, e. g. by means of drones and special sensors, assistance systems for planning, execution documentation and accounting activities, the use of highly specialised construction machinery and supporting robotics during construction, new or renewable construction materials (»carbon concrete composite«) and composite materials to innovative manufacturing processes for components, e. g. 3D printing processes. Ambitious initiatives aim at an increasing networking of machines and assistance systems including the collection of all building-relevant data and documents for the generation of virtual building models (building information modelling, BIM) in order to realise all process flows at least for the planning and realisation of a building project via superordinate management systems (»Building 4.0«).
Although the construction industry and its associations are meanwhile focusing on construction technology as well as on research and development and are participating in corresponding national and European platforms, although competence centres have been set up and policy makers have drawn up expert opinions, strategies and action plans for major construction projects and initiated housing summits – the actual potential of technical innovations in tackling current construction challenges is often not yet sufficiently recognised or tapped.
Objectives and approach
The TA project primarily focuses on the planning and construction of buildings and the potentials of product and process innovations – particularly with regard to productivity increases and reductions in time and costs. Possibilities and limits as well as specifics regarding the implementation of both (new) housing construction and – as an example – larger infrastructure projects shall be considered. The TA project is intended to provide an overview of relevant trends regarding technology, product and process innovations in the construction industry, in particular with regard to the following aspects: surveying and documentation, automated construction machinery and robotics, manufacturing processes and new composites/materials. Related fundamental and more specific research questions particularly refer to the following aspects: state of the art and application, perspectives of further technology development and future fields of application, framework conditions for successful implementation of processes and technologies, needs for action, funding and research. Using expert opinions as a basis, the innovations and their potentials as well as the above-mentioned technology and process innovations influenced by digitisation shall be identified both for the field of »new residential construction« and for the field of »infrastructure construction/functional building«.
Project progress
In June 2019, the German Bundestag commissioned three external expert studies on the following topics:
Relevant trends regarding technology: surveying and documentation, automated construction machinery and robotics, manufacturing processes and new composites/materials
Digital planning and building: application perspectives in housing and construction
The external expertises had been evaluated and served as the basis for the preparation of the final report which was approved by the Committee for Education, Research and Technology Assessment. Currently, the TAB report and the associated TAB focus issues are being prepared for publication.