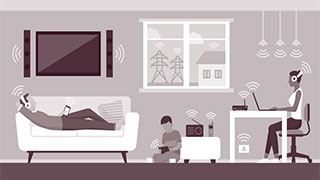 Possible health impacts due to different frequency ranges of electromagnetic fields (HF-EMF)
* The final report has been accepted by the Committee on Education, Research and Technology Assessmen - project results are currently being prepared for publication.
sprungmarken_marker_1797
Background and central aspects of the topic
In the years to come, a further increase of electromagnetic fields (EMF) or EMF sources is to be expected. This is due to the expansion of electricity grids, the promotion of electric mobility (e. g. wireless transmission of electricity via induced magnetic fields) and, above all, the rapid digitisation of almost all areas of life which, at the same time, is associated with a strong use of mobile technologies. High-frequency EMF (HF-EMF) constitute the basis of digital, wireless communication, e. g. between WLAN routers and computers, tablet computers, mobile phones etc. in the entire public space and in virtually all private households. It is partly still unclear which interactions between the various EMF are to be expected. As a matter of principle, however, the increased occurrence of EMF involves a higher overall exposure of the population.
For some years already, the impacts of non-ionising radiation of low and high frequencies on living organisms are the subject of intensive research with still partly ambiguous and inconsistent findings resulting in different and sometimes conflicting interpretations. At the same time, the scientific findings that are deemed to be reliable regarding the biological effect thresholds for technically generated electromagnetic radiation – below which no effects can be identified or measured – constitute the basis for exposure limits recommended by the International Commission on Non-Ionizing Radiation Protection (ICNIRP). National and international expert groups and institutions – such as the World Health Organization (WHO), the German Commission on Radiological Protection (SSK) or the German Federal Office for Radiation Protection (BfS) – follow these recommendations when it comes to issues regarding appropriate limits.
In view of the new technological developments and applications in the different EMF areas as well as with regard to an improvement of the scientific data still required in this respect, the responsible Federal Ministries and their subordinate authorities have conducted and still are conducting research programmes and projects that are intended to contribute to an enhancement of risk assessment and evaluation concerning EMF. In this context, mainly the (follow-up) research projects of the German Mobile Telecommunication Research Programme (DMF) and the voluntary commitment of the Mobile Network Operators as well as the continuing research efforts of the BfS (since 2014) e. g. within the framework of the Environmental Research Plan by the German Federal Ministry for the Environment, Nature Conservation, Building and Nuclear Safety (BMUB) – which partly adopt a very broad and comprehensive approach – have to be mentioned.
Objectives and approach
Within the framework of the TA project, the results from the current national and international research projects have beenwill be reviewed and analysed particularly with regard to whether they contain relevant or new findings that might have a substantial effect on the debates concerning possible health impacts or risks of (HF-)EMF. Furthermore, potential research gaps and needs for research shall be identified. Another objective is to identify and to describe opportunities and/or strategies regarding a reasonable (required) minimisation of the population's exposure to EMF.
The perspective or focus on research efforts that (could) make a substantial contribution to an improved risk evaluation with regard to the exposure of children, but also of aged persons and people with underlying medical conditions is of particular significance. Due to the fact that today's children and young people will probably be exposed to EMF to an increasing degree and during their whole lifetime, the issue of possible long-term effects is of utmost importance. Thus, in 2011, due to the scientific uncertainties regarding possible long-term risks of an intensive use of mobile phones, the International Agency for Research on Cancer (IARC) of the WHO has classified HF-EMF as belonging to group 2B on the IARC scale stating that – according to the current state of knowledge – there is limited evidence that these fields have »possibly carcinogenic« effects. This evidence results from epidemiological observations, but cannot be supported by experimental findings at all or only insufficiently.
Finally, as part of the TA project, it is examined which EMF are generated in which form and in what strength by which devices and systems. Based on this, the resulting exposures for humans shall be assessed. In this context, possible cumulative effects due to simultaneously effective EMF sources of different frequencies are taken into consideration. This also helps to identify possible gaps of knowledge and needs for research concerning this issue.
Project progress
According to the outline of the issue, three external expert analyses have been worked out and evaluated dealing with the following topics:
Current research activities with regard to potential health impacts and risks of (HF-)EMF (2017)
Systematic description of EMF emissions of electric devices and systems (2017)
Current research activities and results on EMF risks for children and possibly elderly people (2019)
The final report written by TAB has been accepted by the Committee for Education, Research and Technology Assessment and the project results are currently being prepared for publication.