Bacteriophages offer opportunities in the fight against multi-resistant pathogens
Bacteriophages are viruses that can specifically attack and destroy certain bacteria. A new TAB report provides a comprehensive overview of the applications and innovation potential of bacteriophages in medicine, agriculture and food management, and identifies options for their wider use. The corresponding Policy brief now available in English.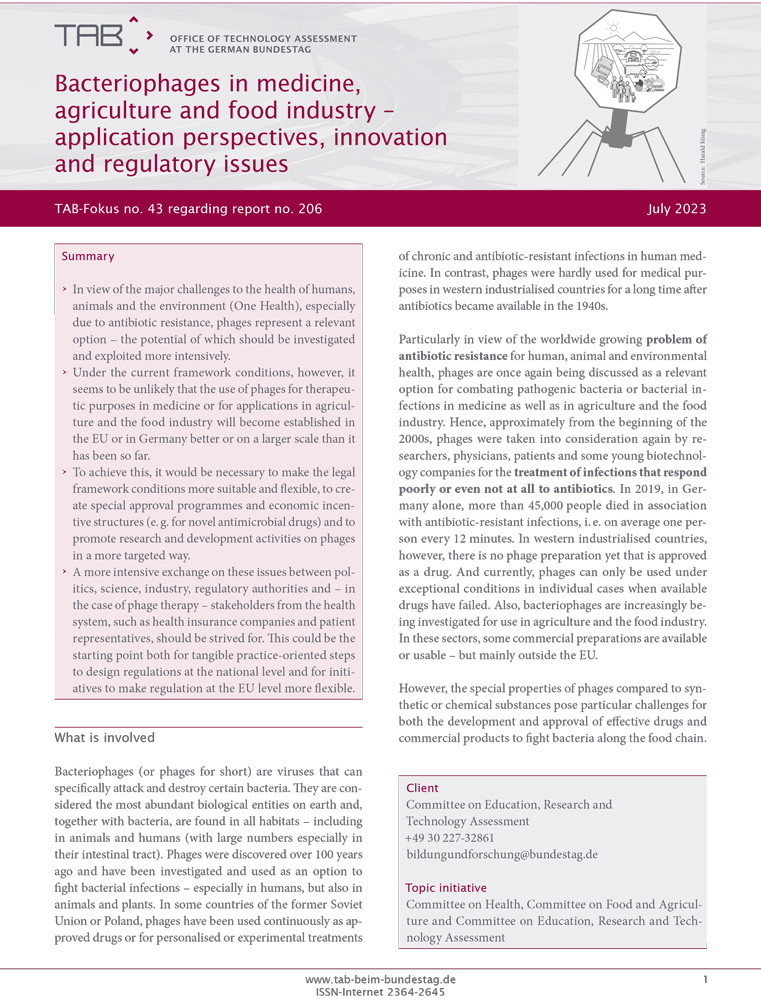 In Germany alone, more than 45,000 people died from antibiotic-resistant infections in 2019, an average of one person every 12 minutes. Although the possibility of using bacteriophages to combat bacterial infections has been known for more than 100 years and has been in continuous use in some countries of the former Soviet Union since then, it is only in recent years that the use of bacteriophages has become the subject of increasing global debate. However, no phage preparations have yet been approved as medicines in western industrialised countries. Few commercial products are available for use in agriculture and the food industry, especially outside the EU.
In particular, the ability to kill antibiotic-resistant bacteria and the possibility to overcome emerging bacterial phage resistance relatively easily and quickly makes phage-based products a relevant option in the fight against the problems and challenges posed by antibiotic resistance to human, animal and environmental health (One Health). It therefore seems necessary to further explore and exploit the potential of this option.
However, according to a key finding of our innovation analysis, if the current framework conditions do not change, it seems to be unlikely that the use of phages for phage therapy in human medicine or for applications in agriculture and the food industry will become establishe in the EU or in Germany than it has been so far.
This would require further development of the legal framework towards greater precision and flexibility, more comprehensive funding of research and development activities and possibly the creation of economic incentive structures.
The TAB report (Arbeitsbericht Nr. 206) provides a comprehensive overview of the state of development and potential applications of bacteriophages in medicine, agriculture and the food industry and analyses the different regulatory frameworks. From this, scientific-technical, economic, innovation-policy and legal challenges and options for action to promote and further develop the use of phage are derived and described in detail. The TAB report provides an up-to-date and well-founded information base on this important topic of research, health, agricultural and environmental policy.
The needs for action and options are briefly presented on the project page. The corresponding Policy Brief TAB-Fokus issue no. 43 provides a compact summary of the report.
05.09.2023
Downloads and further information