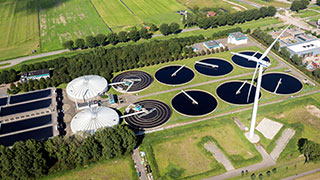 Opportunities and risks of the digitisation of critical municipal infrastructures using water and waste management as examples
Project team:

Pauline Riousset and Saskia Steiger (Project Managers), Claudio Caviezel


Thematic area:

Topic initiative:

Committee on Education, Research and Technology Assessment; Committee on the Environment, Nature Conservation and Nuclear Safety

Analytical approach:

TA project

Startdate:

2019

Enddate:

2023 (in process of approval)
sprungmarken_marker_1256
Background and central aspects of the topic
Municipalities are responsible for numerous areas of public services and the necessary technical and social infrastructures. In a classical understanding, these include the supply of water, gas, electricity, lighting, the disposal of wastewater and waste, and the operation of local public transport. In addition, education and healthcare systems with their facilities and a functioning public administration are services that the municipalities themselves or with the support of (other) public-law bodies provide to all citizens as "basic services".
Digitisation is a key future task for municipalities and municipal enterprises. As in other contexts, however, its effects and consequences are quite ambivalent and challenging: Similar to the entrepreneurial sector, digitalisation offers municipalities and municipal utilities numerous opportunities for efficiency and quality improvements in technical and operational processes, in administration and work organisation or, for example, in communication with citizens or customers. Accordingly, the opportunities of digitization for municipalities are manifold, ranging from improved or expanded municipal services through digital administrative offerings to the relief of public budgets through operational efficiency improvements to innovative solutions for resource-saving supply and disposal of drinking water and wastewater as well as in waste disposal and treatment. At the same time, such a far-reaching digital transformation poses enormous challenges for municipalities. In addition to the high investment costs for the necessary IT infrastructure, municipalities often lack appropriately qualified specialists for implementation. Municipal utility companies also see strong structural changes and new business models and players coming their way as a result of digitalization. Finally, municipalities must also increasingly deal with possible risks of digitalization, for example in the area of IT security or data protection.
Municipalities and municipal utilities are currently trying to set themselves up as models with digitalized concepts and infrastructures in order to respond as specifically as possible to current challenges such as increasing resource consumption, new and ambitious environmental protection targets or demographic change. Current surveys indicate that municipalities are generally insufficiently prepared for the changes associated with digitalisation. At the same time, however, the numerous funding programmes, initiatives and strategies underline the fact that politicians and many decision-makers in local government have fundamentally recognised the great potential of digitisation and want to exploit it.
Many of the municipal social and technical infrastructures also come under the heading of "critical infrastructures", the protection of which represents a central core task of state and corporate security provision, as impairments or a failure of such infrastructures could have dramatic consequences for society. The effects of the digitalisation of municipal infrastructures are also ambivalent from the point of view of critical infrastructures: on the one hand, the monitoring and more flexible control functions made possible may offer new options for responding better and faster to extraordinary events (such as extreme weather events, accidents, local power failures or criminal threats) by means of intelligent modes of operation, thereby increasing the overall availability and reliability of infrastructures. On the other hand, digitalisation and networking increase the complexity of infrastructures and thus also the risks of technical and human errors, which can lead to impairments in critical municipal infrastructures. In addition, this generally increases their dependence on functioning power and IT infrastructures, as a result of which power failures or IT disruptions could assume far more serious proportions than before. Last but not least, digitised infrastructures offer new attack surfaces for criminal offences targeting computer systems and networks themselves (e.g. cyber espionage or cyber terrorism).
Objectives and approach
In the context of this study, the development as well as opportunities and risks of the digitalisation of critical municipal infrastructures are to be dealt with on the basis of two examples: Municipal water management (water supply and wastewater disposal) and municipal waste management. Digitalisation offers great potential for these economic and infrastructure sectors in particular, but their realisation is often still in its infancy. For example, automation technology is already being used in water management today that can take over simple monitoring, control and regulation functions based on sensor data. However, a consistent collection, networking and algorithm-based evaluation of the existing large data sets in analogy to Industry 4.0 solutions is hardly taking place at present. In the waste management sector, the first municipalities are experimenting with "intelligent" waste containers that transmit the respective fill level to the scheduling system. The aim is to enable needs-based emptying, efficient routes for waste collection vehicles, improved operational work structures and new forms of inter-municipal cooperation.
For the study, it is useful to distinguish between the two levels of the question - opportunities and risks of the digitalization of municipal infrastructures and the effects of digitalization on supply security. The project will therefore be conducted in two successive phases.
Project progress
For the preparation of the final report, two external expert reports on digitisation trends in water and waste management and two expert reports on the impact of digitisation on security of supply in water management were evaluated. The final report written by TAB is currently being approved by the TA Rapporteur Group.