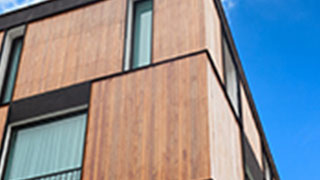 Urban timber construction
Project team:

Dr. Sonja Kind (Project Manager)

Thematic area:

Topic initiative:

Committee on Education, Research and Technology Assessment

Analytical approach:

TA brief study

Startdate:

2020

Enddate:

2022
sprungmarken_marker_1242
Subject and objective of the study
Until the 1990s, timber houses were predominantly erected in rural regions or near urban fringes as detached or semi-detached houses. Only recently have we seen a renaissance and further development of timber construction. Due to the further development of building regulations and laws, especially in the context of fire protection, as well as the stronger orientation of society and politics towards sustainability aspects in the building industry, timber construction has been increasingly used in inner-city construction for some years now.
The motives for building with wood are, on the one hand, ecological advantages (e.g. better CO2 balance) compared to conventional concrete buildings. Moreover, building components can be prefabricated easily and thus enable faster construction with up to 80 % less construction site traffic. The high vibration capacity of wood also increases the earthquake resistance of the houses, which is relevant in many (world) regions. On the other hand, there are still difficulties in meeting fire protection requirements and more complex approval procedures in the planning and realisation of timber buildings.
Particularly in the area of renovation of existing buildings – this includes construction measures for conversion, adding storeys and redensification – timber construction is gaining in importance. Wood is also becoming increasingly suitable for multi-storey buildings. Wooden houses with five to seven storeys or more are now being built.
The objective of the short study was to give an overview of the challenges and potentials of urban timber construction, i.e. in relation to multi-storey timber high-rise buildings and other larger timber construction complexes. The short study analysed innovation potentials of urban timber construction and the associated TA-relevant implications. Another focus was on the description of the actor landscape and the value chain (so-called ecosystem of urban timber construction).
Key results
Megatrends such as increasing urbanisation, demographic change and structural change in society are influencing the requirements for living space in cities. The growing influx of people into cities is creating an ever-increasing demand for housing. New ideas and concepts of social coexistence are also creating changing demands on housing (e.g. changing space requirements depending on the phase of life, availability of affordable housing, accessibility). The modular construction method possible in timber construction can be used to react flexibly, quickly and ecologically sustainably to changing requirements in urban development. Timber construction can also contribute to the redensification of urban building land in order to develop land reserves.
Three groups of actors are relevant for the innovation system of urban timber construction: Companies together with clusters, networks and associations form the first group, the second consists of public actors and the third of research institutions.
In perspective, the demand for buildings in timber construction will increase. However, the greatest market potential for urban timber construction does not yet lie in high-rise timber construction, but above all in the areas of adding storeys, closing gaps between buildings and energy-efficient façade refurbishment. Growth potential is also expected in functional buildings such as schools or day-care centres. However, it will be difficult for the sector, which is characterised by very small companies, to realise multi-storey timber buildings or larger construction projects in timber construction. It is likely that larger companies from abroad and from the solid construction industry will be the dominant players. The future availability of skilled workers will also be important for a prosperous development of the sector.
Publication
(only in German)
TAB-Kurzstudie Nr. 3

Urbaner Holzbau
Publication on the topic
(only in German)
Themenkurzprofil Nr. 32

Urbaner Holzbau.
Richter, S.
2019. Büro für Technikfolgen-Abschätzung beim Deutschen Bundestag (TAB)