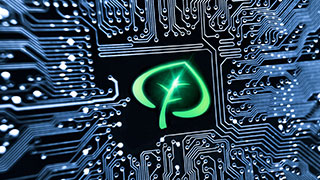 Energy consumption of ICT infrastructure
Project team:

Reinhard Grünwald (Project Manager), Claudio Caviezel

Thematic area:

Topic initiative:

Committee on Education, Research and Technology Assessment; Committee on Economic Affairs and Energy

Analytical approach:

TA project

Startdate:

2019

Enddate:

2022*
* Final report approved by parliament - project results are currently being prepared for publication.
As part of the investigation, the current state of knowledge on energy consumption in ICT infrastructures and existing savings potential, including barriers to their implementation, will be ascertained and presented.
sprungmarken_marker_1263
Background and central aspects of the topic
Digitisation permeates all areas of life and has a considerable transformative potential. So far, the enormous opportunities and risks of the digital upheaval have been addressed primarily in economic and societal terms. However, it is also accompanied by considerable ecological impacts, which can be considered to be ambivalent: On the one hand, digitisation offers the opportunity to reorganise economic and social processes and, in particular, to make them more efficient with regard to environmental aspects, so that energy and resources can be saved. Examples are the potentials of networked mobility (from which it is hoped that traffic flows will be optimised to save energy) or smart home systems (which are intended to help reduce consumption in households). On the other hand, the establishment and operation of digital infrastructures (terminal devices, data and computer centres, communication networks) consume large amounts of energy and raw materials, thus having a significant impact on the global environment and climate. According to an analysis by the German Energy Agency (Deutsche Energie-Agentur, dena), the total electricity consumption of information and communication technology (ICT) in Germany could be reduced despite the steady growth thanks to successful energy efficiency measures (dena study 2017: Analysis of the energy consumption associated with an increased use of ICT as a result of increasing digitisation). However, this does not generally apply to all countries and in Germany not to the subareas of data and computer centres, where energy consumption continues to increase because of the strong expansion exceeding the savings achieved by means of efficiency measures.
A critical consideration of the energy consumption of ICT infrastructures is also relevant, because – in view of the enormous potential benefits associated with or promised by digitisation – there might be a danger that the negative environmental impacts involved could increasingly slip out of the focus of users, researchers and, last but not least, political stakeholders. Although the electricity demand of digital products or services currently is the subject of intense discussion in the context of crypto currencies, it is not a virulent topic of societal or political debate. With regard to the identification and implementation of energy saving potentials in ICT, the German Energy Agency also identified a great need for research as well as the need for educational work in order to raise users' awareness of the topic.
Objective and approach
The study aims at examining and presenting the currently available state of knowledge regarding the energy consumption of ICT infrastructures as well as existing saving potentials including obstacles to their realisation. The project shall focus on the following aspects:
State of knowledge regarding ICT-related energy consumption: Based on a literature analysis, the current state of knowledge regarding the energy consumption of ICT in Germany and selected other countries shall be summarised. For this, particular attention shall be paid to recent developments, such as the high power consumption caused by so-called mining when handling crypto currencies. Moreover, it is important to differentiate between the various digital infrastructures on the one hand and energy consumption on the other hand (e. g. for the operation of servers, cooling systems, etc.): For example, the energy consumption of data and computer centres has been investigated comparatively well, whereas the relevant knowledge is less pronounced in the field of telecommunications networks.
Specification of (currently still unused) energy saving potentials in ICT: Here, technologies that are already used in other industrial sectors but not yet sufficiently in ICT (e. g. heat recovery systems in data and computer centres) shall be taken into consideration just like sector-specific organisational and technical measures for energy optimisation of ICT (e. g. increasing server utilisation, energy-saving functions in routers) or new technological approaches, some of which are still at the basic research level (e. g. the use of multiferroic materials to reduce the electricity demand of hard disks or artificial intelligence for energy-optimised management of communication networks). The various possibilities shall be discussed with regard to their saving potentials, but also with regard to possible adverse effects on ICT (e. g. with regard to availability, reliability or data security) or the environment. Finally, needs for research shall be identified.
Obstacles with regard to the realisation of saving potentials in practice: This aspect shall be dealt with i. a. by a survey of experts (science, associations) and users. The aim is to identify political options for action (e. g. incentive systems, funding measures, needs for research, regulatory framework conditions) in order to support the implementation of saving potentials.
Use of electricity from renewable energy sources: As an alternative (or complement) to energy efficiency measures, the carbon footprint of digital services can also be improved by using electricity from low-carbon or carbon-free sources. An interesting approach in this context is, for example, to operate data and computer centres in the base of wind power plants in order to reduce the need for new power grids (the practical suitability of such a system is currently being tested near Paderborn, Germany). New concepts and ideas for an optimal integration of ICT infrastructures into an energy system increasingly characterised by decentralised and volatile power generation shall be presented and discussed with regard to potentials and feasibility – as far as realistically possible.
Project progress
In June 2019, the German Bundestag commissioned an external expert study to analyze the state of knowledge on ICT-related energy consumption. Focal points are the identification of potential savings, the investigation of obstacles to their realization and, based on this, the development of appropriate options for action. After submission of the external expertise, it was evaluated by TAB and served as the basis for the preparation of the final report which is currently going through the process of approval by the group's TA rapporteur group.