Disruption in society – TA to the rescue?
Type of event:

Conference

Venue:

Deutscher Bundestag
Adele-Schreiber-Krieger-Straße 1, 10117 Berlin
Marie-Elisabeth-Lüders-Haus, Anhörungssaal 3.101

Date:

17.10.2022

Organiser:

TAB and Committee on Education, Research and Technology Assessment of the German Bundestag (as holder of this year's presidency of the network of European Parliamentary TA Institutions, EPTA).

Time:

9.45 bis 17.00
What do leapfrog innovations, 9/11, a possible collapse of the Gulf Stream, and the COVID-19 pandemic have in common? The answer is: disruption! What is meant here are drastic, rapidly occurring changes that are (often) destructive in nature. However, destruction can also offer opportunities for something new in the sense of "creative destruction". Relevant for technology assessment (TA) are disruptions in which technologies play an essential role, for example as a trigger of disruption, as a means of dealing with it, or as an affected system.
Using three exemplary topics, the conference highlighted some of the many facets of disruption:
critical infrastructures (such as electricity, water supply, Internet) whose failure must be prevented at all costs;

autonomous weapon systems as an example of software-based systems that make decisions with potentially far-reaching consequences;

forests as a prime example of a natural area that is under severe pressure to "tip over" due to climate change and other human activities.
The aim of technology assessment is to provide orientation knowledge by identifying and naming opportunities and risks at an early stage. It can also pinpoint vulnerabilities and instabilities, develop scenarios and analyse the possible consequences of various courses of action. With numerous examples from the international research and consulting practice of the EPTA partners and beyond, the conference explored the question of what contribution TA has made and can continue to make to the political and social handling of disruptions.
We were pleased to have hosted the conference in Berlin together with the Committee on Education, Research and Technology Assessment of the German Bundestag as the holder of this year's EPTA Presidency, together with our European network partners of parliamentary TA and thank you for the numerous participation on site and in the live stream.
The EPTA network is the European association of parliamentary technology assessment institutions. The 25 members advise their respective parliaments on topics of current technologies and innovations. The annual EPTA conference in 2022 will be hosted by the German Bundestag with the Office of Technology Assessment at the German Bundestag (TAB), which holds the EPTA presidency this year.
Parallel to the conference, the EPTA Report 2022: "Disruption in society - TA to the rescue?" is published. The anthology comprises the individual contributions of network members and bundles the different perspectives on dealing with disruptions in the context of the conference themes (1) autonomous systems, (2) critical infrastructures and (3) natural areas under pressure.
Programme
from 9:00 a.m.
Arrival and registration
9:45 a.m.

Welcome and opening

Kai Gehring, Member of the Bundestag, Chairman of the Committee on Education, Research and Technology Assessment

10:00 a.m.

Thematic introduction

Prof. Dr. Armin Grunwald, Director of TAB

10:10 a.m.

Keynote: "We shape our world, thereafter it shapes us".

Marc Elsberg, author of the novel »Blackout«.

10:40 a.m.

Session I: Critical infrastructures - how do we prevent disruption?

Chair:

Dr. Michael Nentwich, ITA, Austria

Speaker:

Dr. Petra Jonvallen, ERS, Riksdag, Sweden
Jaro Krieger-Lamina, ITA, Austria
Katri Liekkilä, National Emergency Supply Agency (NESA), Finland
Gerhard Deimek, Member of the Austrian National Council

12:10 p.m.
Lunch
13:00

Session II: Autonomous weapon systems - humans in the crosshairs of the machine

Chair:

Linda Kool, Rathenau Institute, Netherlands.

Speaker:

Dr. Frank Sauer, University of the Federal Armed Forces, Munich, Germany
Maya Brehm, International Committee of the Red Cross, Switzerland
Prof. Chris Jenks, LL.M, SMU Dedman School of Law, Texas, USA
Prof. Dr. Cedric Ryngaert, Utrecht University School of Law, Netherlands

2:30 p.m.
Coffee break
3:00 p.m.

Session III: Nature under pressure - humans as a disruptive force

Chair:

Dr. Helene Limen, Baltic Waters 2030, Sweden.

Speaker:

Dr. Palle Madsen, InNovaSilva ApS, Denmark
Prof. Dr. Pierre Ibisch, HNE Eberswalde
Dr. Somidh Saha, ITAS, Karlsruhe, Germany

4:30 p.m.

Closing panel: From advice to action - Disruption from the MPs perspective

Members of the TA Rapporteur Group:

Kai Gehring, MP, Chairman of the Committee on Education, Research and Technology Assessment Bündnis 90/Die Grünen).
Dr. Holger Becker, MP, SPD
Lars Rohwer, MP, CDU/CSU
Laura Kraft, MP, Alliance 90/The Greens
Prof. Dr. Stephan Seiter, MP, FDP
Prof. Dr.-Ing. habil. Michael Kaufmann, MP, AfD
Ralph Lenkert, MP, The Left Party

Moderation:

Tore Tennøe, Teknologirådet, Norway

5:00 p.m.
Refreshments
Programme Booklet (PDF)
The conference language was in German and English and simultaneous translation was available.
Downloads and Links
EPTA-Report 2022
EPTA-Council 2022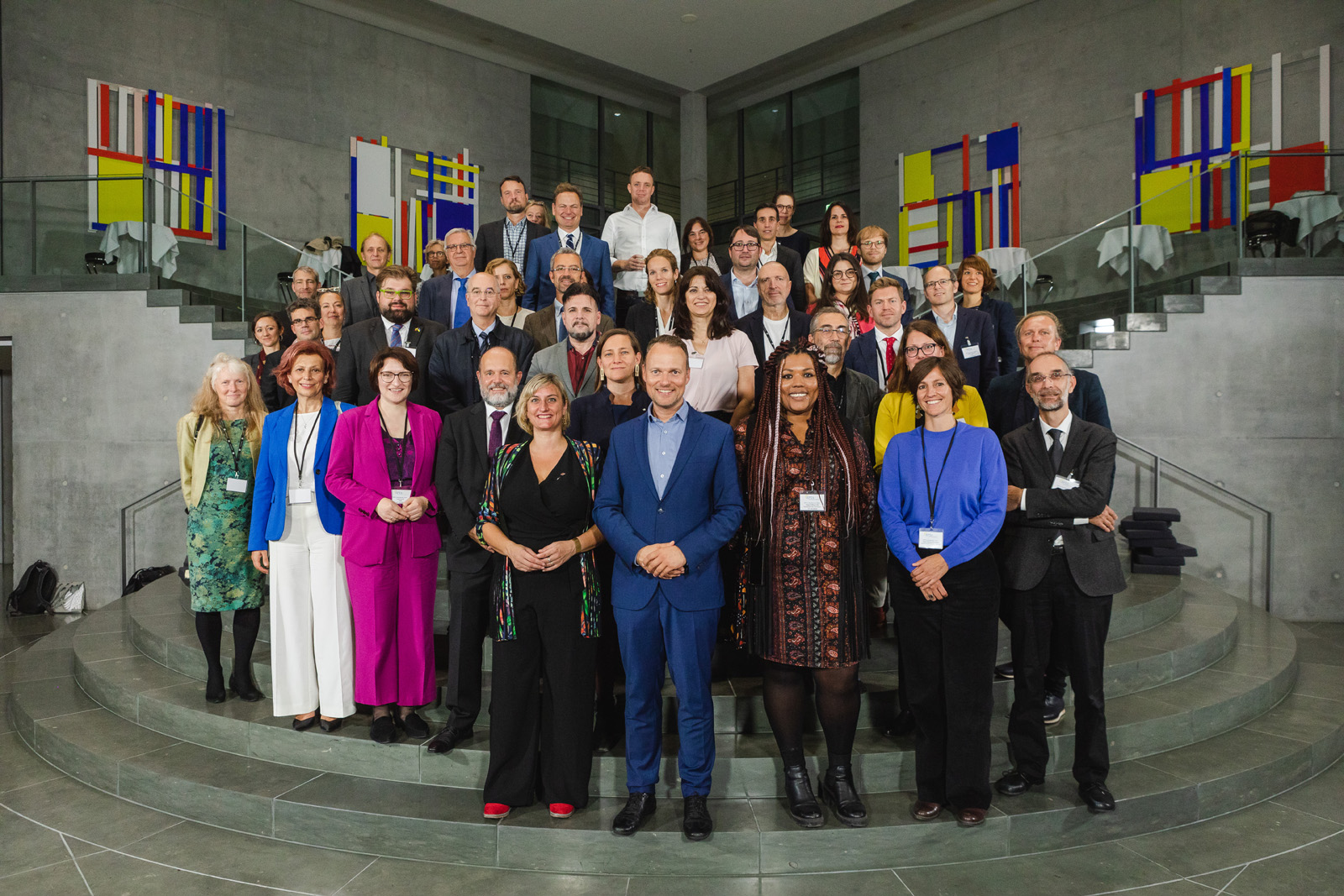 EPTA-Council, 17.-18.10.2022, für Abgeordnete europäischer Parlamente und Mitglieder der Steuerungsgremien der EPTA-Institute