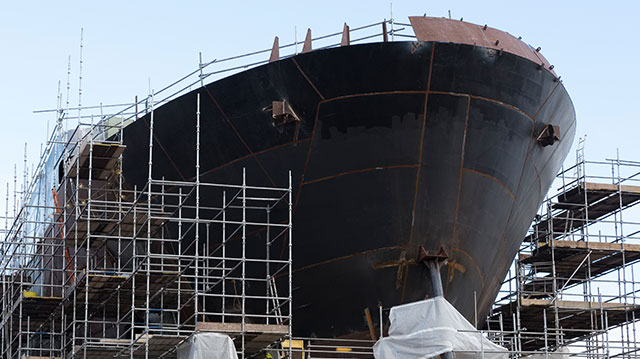 Sustainable and safe concepts for climate-friendly shipping
Project team:

Christoph Kehl (Project management); Reinhard Grünwald

Thematic area:

Topic initiative:

Committee on Education, Research and Technology Assessment

Analytical approach:

TA project

Startdate:

2022

Enddate:

2024
sprungmarken_marker_3475
Background and central aspects of the topic
In view of the advancing climate change, the shipping industry, which handles a large part of the global trade in goods, is also faced with the urgent question of howCO2 emissions can be substantially reduced. Currently, most ocean-going vessels still run on heavy fuel oil or marine diesel - both extremely climate-damaging fuels. Since hybrid or battery-electric solutions are not viable in most cases due to the long transport distances in international shipping and in view of the necessary energy density, alternative fuels are being sought, such as hydrogen, methanol, ammonia and other synthetic fuels. In addition, there are numerous other starting points along the life cycle of ships for making shipping more sustainable, such as innovative shipbuilding and propulsion concepts that help reduce fuel consumption and can thus also promote the switch to alternative fuels.
Most scientific-systematic considerations of the innovation potential of synthetic fuels are limited to the aspects of energy intensity and cost relevance, while important implementation conditions such as access and distribution, availability in ports, and the hazards for people and the environment during handling and in the event of accidents are hardly addressed. Since Germany has a large merchant fleet and is one of the most important shipbuilding nations, the decarbonization of shipping is also of great national relevance.
Objectives and approach
The topic of sustainable or climate-neutral shipping is to be addressed in a (broad-based) TA project that, in addition to the issue of alternative fuels, also addresses technological innovations in shipbuilding (hull forms, lightweight construction, propulsion systems, reduced water resistance). The project is expected to include the following focus areas:
Maritime fuels of the future: promising synthetic fuels are to be identified and their potentials, realization conditions as well as application risks are to be compactly illuminated. The focus should be on the following aspects: Utilization requirements of technical (e.g. engine technology) as well as infrastructural nature (storage and transport), costs/economy, environmental and climate impacts (if possible over the entire life cycle), application possibilities (e.g. suitable shipping routes), risks as well as barriers.
Innovative shipbuilding technologies: International research and development activities in the fields of shipbuilding design, innovative materials and alternative propulsion concepts should be presented and their perspective contribution to a more sustainable shipping should be classified. In view of the long lifespan of ships, in addition to new shipbuilding, particular attention will be paid to opportunities for retrofitting existing ships, and the strengths and weaknesses of the German shipbuilding innovation system will be analyzed and possible implementation barriers identified.
Regulatory framework: Attention will also be paid to standards and regulatory frameworks that have an impact on making global shipping more sustainable. International agreements are particularly relevant here. This relates on the one hand to regulations/guidelines regarding the approval of new fuels and technologies, and on the other hand to the handling of hazards to people and the environment (e.g. liability regulations in the event of accidents).
Project progress
In the areas of renewable marine fuels and innovative shipbuilding concepts, an external expert opionion has been commissioned to look at infrastructure, legal and, above all, safety-related issues, in addition to emissions savings and cost aspects.
The external expertise was submitted in May 2023 and is currently being evaluated. The final report is expected to be submitted to the responsible TA Rapporteur Group of the Parliamentary Groups for approval by the end of 2023.
Publication on the topic (only in German)